Controlled Density Fill Has Many Uses in Lacey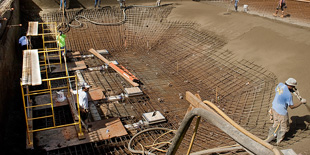 Do you need controlled density fill (CDF concrete) for any project in Lacey? Get in touch with Lakeside Concrete Pumping. Controlled density fill is a flowable, self-compacting engineered cement material.
The key thing that makes flowable fill an extremely versatile product is that, even though it gets quite hard, it can be excavated later on if necessary in some applications. Since 1994, we have been offering flowable mortar or CDF concrete for diverse applications.
The many uses for which we supply controlled density fill in Lacey include:
Laying pipe or conduit bedding
Filling oil tanks and abandoned water/sewer lines
Backfills
Sub-base support for pavements or foundation
Flowable Fill for Underground Utility Backfill in Lacey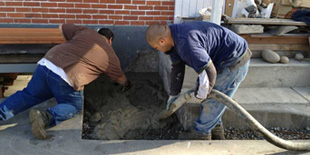 One of the most common uses of controlled density fill is for underground utility backfilling. More and more people are opting for flowable fill in Lacey instead of the other conventional dry, compacting backfill materials because CDF concrete offers several advantages.
For instance, the controlled density or flowable fill:
Involves much less strenuous installation
Is self-leveling and offers easy control over its flow
Has shorter cure time
Is easier to install in constricted or hard-to-reach areas
Has more strength and load-bearing capacity
By calling us for controlled density fill services, you can save considerable time and money when having underground utility backfilling done. There is no need to pay several workers for hours of labor putting down and compacting the standard granular, non-flowing backfill material.
We have a single technician who offloads the flowable fill under slab or any other desired site within minutes!
CDF Concrete - Oil Tank Filling on Lacey Property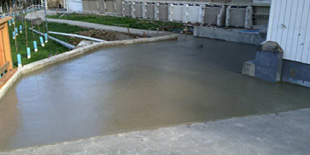 Make us your first call when you need ready mix CDF concrete delivered to your Lacey property for the purpose of oil tank filling. We have invested in a highly trained crew and top-of-the-line equipment for pumping out flowable fill wherever our customers need it.
At our company, we are familiar with the different types of CDF and know how to pump them. When you come to us for CDF concrete for oil tank filling, rest assured that you will:
Receive flowable fill of the right kind and quality
Have the CDF pumped efficiently into the specified area
Have the job site cleaned up, with no mess left behind
Have to pay only an affordable CDF concrete cost
If your project needs controlled density fill in Lacey, look no further than Lakeside Concrete Pumping. Call us at (206) 452-4800 to discuss your requirements for CDF concrete.