Controlled Density Fill Has Many Uses in Olympia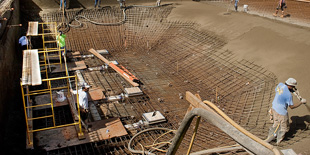 Get in touch with Lakeside Concrete Pumping if you need controlled density fill for your Olympia, WA construction project. Also referred to as flowable fill, flowable mortar or CDF concrete, this engineered cementitious material is popular for a number of non-structural purposes in construction projects.
When comparing flowable fill vs concrete, you will find that CDF is:
More runny
Self-compacting
Of milder strength
The key distinguishing feature of controlled density fill is that, although it hardens and has great load-bearing capacity, it can be excavated without much difficulty in the future. This makes CDF concrete ideal for use as underground utility backfill, filling oil tanks, making pipe/conduit bedding, providing foundation support or creating sub-base for pavements.
We can provide you with top-grade controlled density fill in Olympia for all kinds of applications.
Flowable Fill for Underground Utility Backfill in Olympia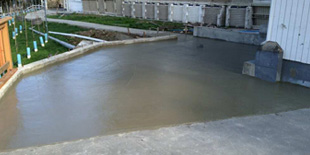 Need backfill for utility trenches on your property? We offer flowable fill as an ideal and affordable backfilling material.
Regardless of the amount of backfill you need for your abandoned underground water or sewer lines, our controlled density fill makes an economical and high-performing alternative to typical compacted granular materials.
We bring flowable fill to your Olympia property in a well-maintained concrete pumping truck and can get your underground utility backfilling done:
In a matter of minutes
With minimal labor expenses
Without wasting time and money
With no need for compaction tests
Our vehicles are fitted with easily maneuverable equipment that allows us to supply CDF concrete to any and every part of your property without any problem at all.
CDF Concrete - Oil Tank Filling on Olympia Property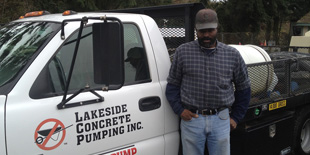 Another application for which we are commonly asked to supply CDF concrete in Olympia is for filling discarded oil tanks. Controlled density fill is considered the safest option for decommissioning a below-grade oil tank.
While the material is more environmentally friendly than concrete, the reduced flowable fill compressive strength ensures that excavation can be done later on, if necessary.
So, do not hesitate to use CDF concrete for your oil tank filling needs. Look no further than us for the delivery of flowable fill. Our family-owned and operated company strives to exceed your expectations by providing you with:
High quality controlled density fill
Fair and affordable rates
Personalized attention and friendly customer service
Since 1994, Lakeside Concrete Pumping has been the most trusted source for CDF concrete in the Olympia area. Call (206) 452-4800.